Leadership
The Rev. Paul A. Cooper, Rector
Paul grew up in a Christian home outside of Zelienople, PA. He was introduced to the Anglicanism in college. A graduate of Gordon-Conwell Theological Seminary, Paul was ordained to the priesthood in June 2001. He has served as Rector (senior pastor) of the congregation since 2001.
The Rev. Deacon Lauren Scharf, Assistant Rector
Lauren most recently served at St Stephen's Church in Sewickley as Community Life and Women's Ministry Director. A native of Erie, she is a graduate of Grove City College and Trinity School for Ministry. Her strengths are teaching and preaching, which will be a great complement to our current efforts here at All Saints. She is currently a transitional deacon, and she will be ordained a priest (Lord willing) in January 2018.
The Rev. Deacon Marybeth Carey, Parish Deacon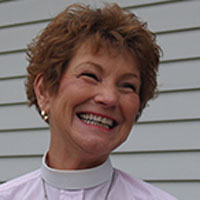 Marybeth grew up in Big Stone Gap, Virginia. She and her family moved to Pittsburgh in the 1990s and attended St. Christopher's Church in Cranberry Township. While there, she heard the Lord's calling to the vocational deaconate. She followed this calling and was ordained a permanent deacon in June 2008. She has served as Parish Deacon since 2008.
Mr. Luke Deman, Seminarian
Luke is enrolled in the Master of Divinity degree program at Trinity School for Ministry in Ambridge, PA. He is married to Jenn, and they have two children.
Church Vestry
Senior Warden, Mr. Matt Tilden
Junior Warden, Mr. Jim Cole
Treasurer, Mr. Jeremiah Otto
Vestry Member, Mrs. Rose McDonough
Vestry Member, Mr. Kirk Haberman
Vestry Member, Mr. Bob Trostle